Many turbomachinery manufacturers are facing very common commercial drivers such as:
Global competition. The need to compete globally means that the company's products need to be superior in terms of performance, cost and in meeting the customer's requirements as closely as possible (customized designs).
Continual price pressure and margin compression. Important to reduce both manufacturing and developments costs.
Reduced time to market. This will help reduce design and development time and hence costs.
Requirements to supply customized products. In many applications the customer has strict requirements in terms of performance, operating range and cost.
Skills shortages. Many companies face problems in recruiting skilled aerodynamic designers and the time required to train a new graduate engineer in aerodynamic design using conventional design methods is too long and hence considered as an expensive investment.
Developments in manufacturing and materials technology.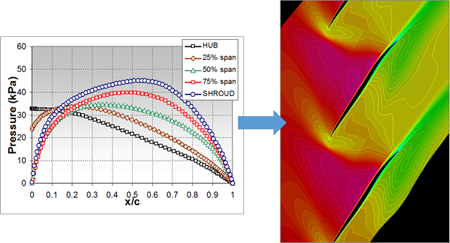 The method used for the design of turbomachinery components has a major impact on the extent a manufacturer can deal with these commercial drivers. Conventional or direct design approach is typically based on some CAD representation of the blade geometry and iterative changes to the geometry using feedback from some form of flow analysis code. The design process relies heavily on the previous experience of the designer, gained over many years. Experienced designers can achieve good performance. But due to the nature of the design process, designers tend to stay within their comfort zones and as a result, restrict the design space.

An alternative approach for aerodynamic design is the so-called inverse design method in which the 3D blade geometry is computed for a specified distribution of blade loading and hence pressure distribution. This approach to design provides more direct control over the design process as pressure distribution on the blade controls all the main flow phenomena such as secondary flows, shock losses, tip leakage flow, etc.